Westhampton at Willow Lawn
6100 Patterson Avenue, Richmond, VA 23226
(804) 282-7459
Established 1953
For more than 70 years, Westhampton Day School (WDS) has been an active member of the Westhampton community. As a mission of Westhampton United Methodist Church, the school provides a full-day curriculum for 180 students and employes more than 40 dedicated educators.
WDS strives to create a nurturing environment that promotes curiosity, creativity, and a caring spirit among our young student population!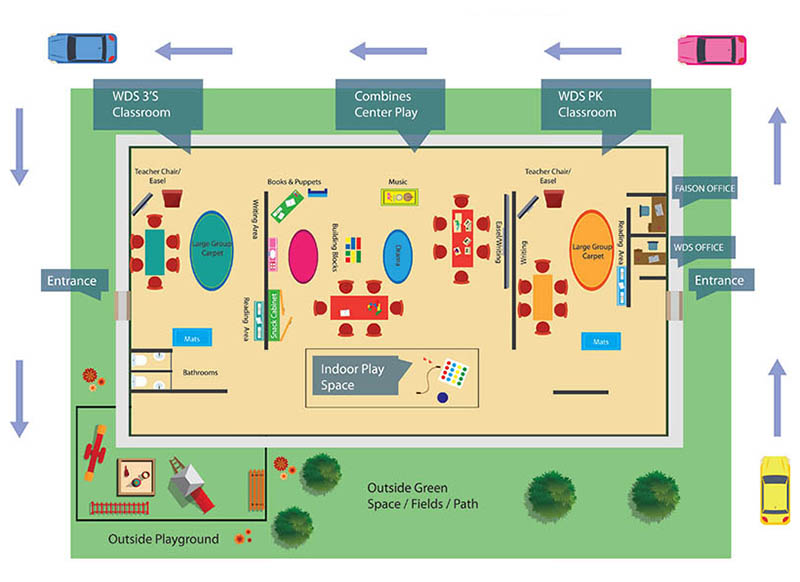 About Westhampton at Willow Lawn (WWL)
The Westhampton Day School program has been overflowing with interest, especially for our Three's & Pre-Kindergarten programs and we decided to expand to a satellite location in fall 2018. Our satellite location is housed in Faison's Early Education Center.
These classes follow Westhampton Day School's teaching philosophy which is derived from Virginia's Foundation Blocks for Early Learning.
General Information
Westhampton at Willow Lawn offers 2 different schedules options for their students:
Regular Schedule: 7:00 AM – 4:30 PM
Extended Schedule:7:00 AM – 5:30 PM
Weekly Tuition Rate
Regular Day = $180/week
Extended Day = $200/week
Tuition includes morning snack and afternoon snack provided daily. Parents are responsible for providing a packed lunch daily. Tuition also includes Music, Art, Library, and Pop, Hop, & Rock once a week.
WWL offers small classroom sizes; a max of 10:1 ratio. The students get to go on monthly field trips during the school year and bi-monthly chapel at WDS main campus. WWL hires a floating Instructional Assistant to provide small group and individualized instruction.
Partnership with Faison
For 7 years, Westhampton Day School has had a wonderful partnership with Faison School of Autism. Westhampton at Willow Lawn is housed in the same building as their Early Education program and offers a chance for some of their Faison students to have inclusion classroom experiences with Faison staff support! We are extremely proud of what we have created, along with Faison, to ensure all students have hands-on, interactive learning experiences.
ENROLLING NOW!
If you're interested in scheduling a tour or hearing more about Westhampton at Willow Lawn. Feel free to email or call Mrs. Alex Strabley, WDS Director, today!!
Email: alexstrabley@westhamptondayschool.org
Phone: (804) 282-7459
Our Westhampton at Willow Lawn Team
Ms. Sarah
WWL Supervisor
Pre-K Teacher
Ms. Stephanie
WWL Instructional Assistant
Ms. Donnie
WWL Instructional Assistant
Westhampton at Willow Lawn
Our Teaching Philosophy
The WDS teaching philosophy is derived from Virginia's Foundation Blocks for Early Learning.
These allow the educators at WDS to provide learning experiences. WDS is licensed by the State of Virginia and has been nationally accredited through the National Accreditation Commission for the Association for Early Learning Leaders since 2015. WDS was the past recipient of the Best Day Care & Preschool in Virginia Living Magazine and was included in Hanover Researches Best Practices in Pre-Kindergarten. Some of WDS's Community Partnerships include the Faison School of Autism, Virginia College, Richmond Association for Directors of Early Childhood Education and Richmond Early Childhood Association.
WDS provides an After School program for students in Kindergarten – Fifth Grade.
Daily activities for our After Schoolers include snack, a supervised homework room, planned indoor activities, afternoon enrichments, and outside play.