Westhampton at Willow Lawn
6100 Patterson Avenue, Richmond, VA 23226
(804) 282-7459
Established 1953
We provide a Christian environment that is nurturing, safe, mutually respectful, and conducive to learning.
Our goal is to create a stimulating and hands-on learning experience for each individual child which promotes intellectual, physical, and social/emotional development.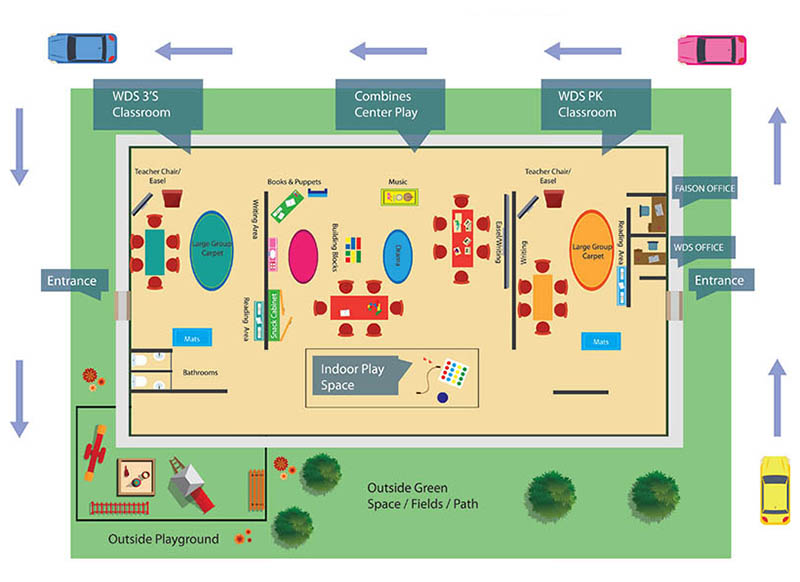 Westhampton Day School at Willow Lawn
1600 Willow Lawn Drive Richmond, VA 23230
The Westhampton Day School at the Early Education Center of The Faison Center, 1600 Willow Lawn Drive, offers an expansion of services. This WDS at Willow Lawn campus is less than two miles from the main campus of Westhampton Day School hosting two classrooms – one Three-Year-Old class and one Pre-Kindergarten class. These classes follow the same curriculum of Westhampton Day School but offer reduced tuition price and service hours of 7:00 AM to 5:30PM. These classes are housed in the same space – thoughtfully redesigned – as The Faison Center's Early Childhood Program. This campus builds on a pre-exisiting partnership with Faison at WDS, offering inclusive learning opportunities.
Westhampton at Willow Lawn
Our Teaching Philosophy
The WDS teaching philosophy is derived from Virginia's Foundation Blocks for Early Learning.
These allow the educators at WDS to provide learning experiences. WDS is licensed by the State of Virginia and has been nationally accredited through the National Accreditation Commission for the Association for Early Learning Leaders since 2015. WDS was the past recipient of the Best Day Care & Preschool in Virginia Living Magazine and was included in Hanover Researches Best Practices in Pre-Kindergarten. Some of WDS's Community Partnerships include the Faison School of Autism, Virginia College, Richmond Association for Directors of Early Childhood Education and Richmond Early Childhood Association.
WDS provides an After School program for students in Kindergarten – Fifth Grade.
Daily activities for our After Schoolers include snack, a supervised homework room, planned indoor activities, afternoon enrichments, and outside play.