Pre-Kindergarten Program
6100 Patterson Avenue Richmond, VA 23226
(804) 282-7459
Established 1953
We provide a Christian environment that is nurturing, safe, mutually respectful, and conducive to learning.
Our goal is to create a stimulating and hands-on learning experience for each individual child which promotes intellectual, physical, and social/emotional development.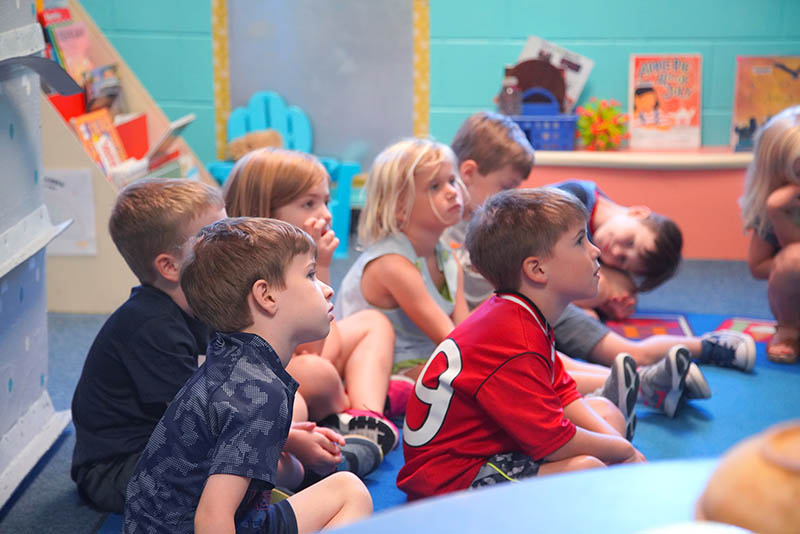 Pre-Kindergarten Curriculum
The Houghton Miffilin Curriculum is a comprehensive integrated curriculum that spans all key development learning indicators with a variety of teaching methods. Phonological Awareness introduces letter sounds and students explore letters through their shape formation. Cooperative work enhances social/emotional development, connections to real life, and expands comprehension; fine motor experiences and creative masterpieces encourage independent expression. Oral language and vocabulary introduce compound words, content words, recall of prior knowledge, and increase vocabulary. 
Children need to make connections to be able to understand the relationship between mathematical ideas. Richardson's Developing Math Concepts in Pre-Kindergarten allows children to be actively engaged as they explore numbers. They need to make connections to be able to understand the relationship between mathematical ideas. Concepts include numbers, spatial relations, patterns, measurements, and data collection. 
Pre-K students participate in PALS (Phonological Assessment Literacy Screening) in the fall and spring. Goal planning conferences take place in the fall, progress reports are completed twice a year, and spring conferences wrap up the academic year.
Our Pre-Kindergarten Team
Ms. Nil
Pre-K Instructional Assistant
Ms. Ellie
Pre-K Instructional Assistant
Mr. Sean
Pre-K Instructional Assistant
Ms. Zoe
Pre-K Instructional Assistant
Westhampton at Willow Lawn
Our Teaching Philosophy
The WDS teaching philosophy is derived from Virginia's Foundation Blocks for Early Learning.
These allow the educators at WDS to provide learning experiences. WDS is licensed by the State of Virginia and has been nationally accredited through the National Accreditation Commission for the Association for Early Learning Leaders since 2015. WDS was the past recipient of the Best Day Care & Preschool in Virginia Living Magazine and was included in Hanover Researches Best Practices in Pre-Kindergarten. Some of WDS's Community Partnerships include the Faison School of Autism, Virginia College, Richmond Association for Directors of Early Childhood Education and Richmond Early Childhood Association.
WDS provides an After School program for students in Kindergarten – Fifth Grade.
Daily activities for our After Schoolers include snack, a supervised homework room, planned indoor activities, afternoon enrichments, and outside play.